UPDATES


I trust that you all are remaining in relatively good health and that at least with some partial restrictions on the way we conduct our lives now beginning to bite, you are all able to sensibly, do a little more than last week!
COVID-19 - UPDATE
We waited with bated breath on Sunday evening to see if the first glimmers of hope would emerge to any semblance of even a tiny step towards normality, was evident. Whilst it is clear that the Government wishes to start releasing some of the strictures on certain industries, it was laced with a cautious undertone of realism of what this virus could still do and its effects personally and economically if behavioural discipline was not maintained. Whilst many of us urbanites were delighted to know we could get out more than once a day, and that we could drive a little way to seek that exercise, the fundamentals are very much in evidence. Social distancing, wearing of protective equipment where you must, and keeping away from large gatherings of people.
As you would have guessed, as far as the Club is concerned, there was little change to the current situation. Grouped into the hospitality sector, it was no surprise that we are going to be amongst the last to set off from the starting line – our business is all about getting people together, for business/pleasure or both. Whilst the 4
th
July could be a starting point for opening up the Club on a limited basis, there is a lot of water to pass under the bridge before we reach that point and a good deal of analysis as to the effects of the partial lifting of restrictions, and thus on any decisions to further loosen them. Regardless of all that, as I reported last week, we are putting many plans in place that will put us on the front foot, once we are given the nod to go, and in whatever guise/capacity etc. The team have been very proactive in providing additional ideas as to how we overcome issues arising out of staff/member movement around the Club and how we provide levels of service wherever we are on the gradient of operation. We are also in close contact with WHC Manager in working up movement plans around the building, access/exit points, one-way systems and of course delivery points for bedding, food, drink etc that will be in place for some time, but hopefully with the added benefit of the No3 entrance being open and fully operational by that time (small works have just re-commenced).
All that said however, it was the statement from the Chancellor, Rishi Sunak, the following day that was of more immediate interest and the extension of the 'Furlough' scheme. This will assist us significantly as we pass through July and onwards, and even assuming we can operate at some level after that date, I envisage we will do so at a far lower capacity than normal and will therefore require fewer staff gradually increasing the number we require throughout the latter part of the year. This clearly assists us in our critical cash flow position. Members will be aware that we will suffer quite a large gap in our budgeted as opposed to actual income generation this year. You will also know that we are doing all we can to minimise costs and take advantage of schemes that allow us to mitigate this shortfall e.g.; Furlough scheme, Business Rates Holiday, deferment of VAT etc. At the same time the Executive and Committees of the Club are working to explore the possibilities to plug those remaining financial gaps in the short term – there is much work going on in this respect. When we finally start to get going again, we will certainly need the support of the membership in using the Club, on the terms and with the safeguards that we will have to put in place to ensure everyone's safety in the "home from home" environment that the club provides.
BCPC ANNUAL SEMINAR
For some years now, the British Crop Production Council, in association with the Farmers Club, have held technical seminars for their respective members. These have become very successful attracting many high profile speakers and sector leaders. Although only a plan at the moment, I thought I would give members notice that the next seminar is scheduled to take place on22nd September 2020. The subject for this years' seminar is:
Meeting the Challenges of Climate Change for UK Agriculture
. It is planned that the keynote speaker will be Chief Scientist at DEFRA, Professor Gideon Henderson FRS.
Obviously, the final nature of how this seminar is conducted and when is not yet confirmed, and there are many COVID-19 decisions and milestones to be reached before that date, but we have put a place marker down, and will see how the next 4 months progress.
That's good news because not only is he another influential speaker, it allows us to put a firm date in the diary and to inform our other specialist speakers who have been very accommodating by pencilling both reserved dates in their diaries.
U30s MEMBERSHIP
Whilst we are all trying to find ways to fill our days and remain safe during these strangest of times, the Chairman of the Membership Committee wanted to remind you all that his Committee are still holding reviews for new member applications with the next being held on 07
th
July (the Committee are already holding a number of these for their July deliberations).
Membership for the U30s section of the Club is particularly easy to arrange. For those members with sons or daughters aged between 18- 30, the application only requires your signature as Proposer (no seconder required). Membership of the U30s is the perfect way to network with others in the Agricultural community and also for socialising at events in London and around the UK. Subscription fees are low and there is no Entrance Fee for U30s applications, full details along with the application form can be found online
https://www.thefarmersclub.com/membership
New applications or any questions you may have can be sent directly to
membership@thefarmersclub.com
where Mark Fairbairn – Membership Secretary, would be delighted to hear from you.
I might add that membership is also available to those meeting the criteria and goes for those potential members and friends of current members who have passed their 30
th
birthday!!
TEAM COMPETITION
During the last week or so, we have run a "Lockdown Bake Off" competition within the Club team. Amongst the many very capable and intricate offerings, I thought I would share 2 in particular, from Sarah (Commis Chef) on the left, and Saskia (HR Manager) on the right!! I am sure many of us have been honing our baking skills with varying levels of success, during this past few weeks. Sadly, my ability in this department would not register on the level of skill of those below! Sarah was crowned the Winner and her Bake Off apron is en route to her.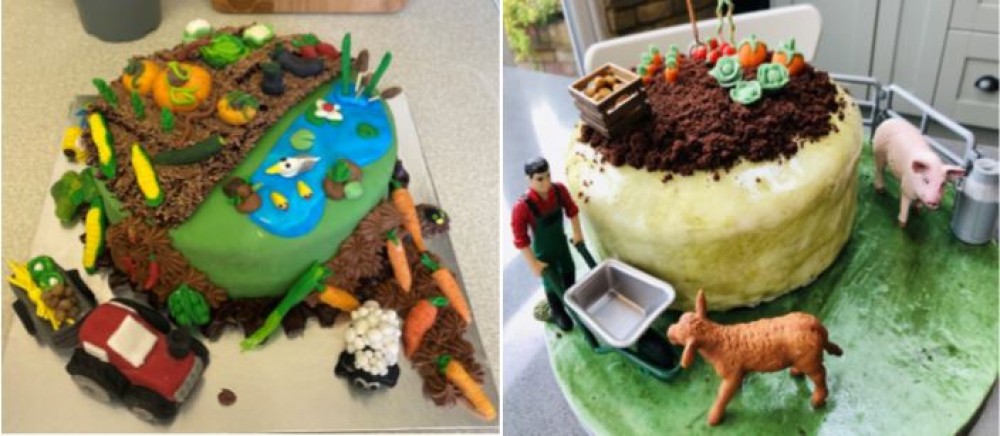 Finally, may I thank all of you who read this newsletter, but most importantly, for the questions and comments I receive from members as a result of them. It is very good to know how you are getting along as well as your snippets of news, many of which I pass on to the team. I think the common theme of returning to 'the oasis in London/ our London home' is an unsurprising constant in many of those sentiments, and we are all looking forward to welcoming you back to your Club when safe to do so.
As always, please keep healthy and safe.
Andrei Spence