I hope that everyone has been enjoying the rather better weather that we have had over the last week and that harvest is progressing well for those who have started. The Club continues to operate and this week has seen increasing numbers who have stayed at the Club, making use of the Restaurant, and particularly the Terrace, which has been especially popular in the sunshine! Committee member Sue Bullock commented "Thank you everyone. We felt safe and comfortable. Delicious supper on the Terrace". As we see increased numbers, we have decided to add a couple more dishes to the menu in addition to one of the Farmers Club favourites for a week at a time within the all-day dining offering. This will add to lobster, fresh crab, rib-eye steaks, fresh fish, vegetarian and a couple of offerings from the Bar Menu. However, we are extremely conscious of the rules, regulations and Government advice still pertaining to our sector and the limited nature of the menu is as much about being able to social distance the chefs in the kitchen so that they do not have anything other than necessary interactions and using the minimum amount of chefs on each shift along with all the other measures in place.
It has been very gratifying to see the start of activity in the meetings held at the Club and the first event in The Farmers Club Summer Series. United Oilseeds held a meeting at the Club this week (the first we have facilitated since the end of lockdown) and were extremely complimentary about what they found here at the Club and how it was serviced "The Board were very, very impressed – they have spoken to me about the attentive service – the cleanliness – the professional service – They were extremely happy". It is pleasing that all the measures we have put in place are working well with little interference into the business meetings that take place. We are hoping that this will be a springboard for more to come and Liza has had a number of inquiries for the late summer.
The first event in the Farmers Club Summer Series took place yesterday with a talk and demonstration from Anne Haworth on the subject of English porcelain. 6 members attended this perfectly formed event (there are 12 on the talk next week) and they thoroughly enjoyed the talk, the Q&A and dinner afterwards, rounded off with a peaceful night's stay in the Club.
Among those impressed were Helen Faulkner and Val Peacock, who commented;
"
Superb stay as always. Excellent "Summer Series" with Anne Haworth on Porcelain – Excellent group with lovely dinner. Club was spotless as always and felt very safe. Many thanks for looking after us
".
Equally impressed were Victoria and Clare Anyan who said;
"
A superb art talk – thank you so much for arranging it – and a marvellous dinner. Two nights of being well looked after by amazing staff; we felt incredibly safe in the Club and city
".
The other 4 further events over the next month include talks on the River Thames, jewellery, Venice and fashion. If interested, please contact Anita to make your booking contact Administrator Anita Kaur on 020 7930 3751 e-mail:
administrator@thefarmersclub.com
BCPC/FARMERS CLUB TECHNICAL SEMINAR
CLIMATE CHANGE: THE CHALLENGES AND THE OPPORTUNITIES FOR FARMERS, FOOD PRODUCTION AND THE ENVIRONMENT
TUESDAY 22nd SEPTEMBER 2020
Climate change is set to remodel UK agriculture and the countryside. Most growers have experienced the implications first hand – particularly the financial cost and worries that can bring – after one of our wettest autumns and winters, followed by a spring and early summer drought.
It has proved to be a destructive combination limiting field operations, impeding germination and crop establishment throughout the season and long-term damage to soil structure. And that impact does not only affect farmers, but also consumers and the UK's fragile economy.
Evidence of the long-standing change comes from the recent Met Office statistics which reveal the past decade holds eight high-temperature records, compared with only one low-temperature record.
So, this technical seminar, the fourth in a series to be organised by The Farmers Club and the British Crop Production Council, sets out to put Climate Change in perspective for UK farmers and the environment they protect. Our specialist panel of speakers will explain some of the challenges and, more importantly, detail the opportunities for UK agriculture so that it can make the most of our world's long-term weather forecast.
PROGRAMME
10.30am – 11.00am
Registration and Coffee

11.00am
Chairman's introduction: Stephen Howe, British Crop Production Council

11.10am
Reaching net zero agricultural emissions by 2040 – 10 years ahead of the UK target:
Dr Ceris Jones, NFU Climate Change Adviser

11.45am
Climate change: The impact for UK crops and cropping patterns:
Prof Steven Penfield, Group leader, Genes in the Environment, John Innes Centre

12.30pm – 1.30pm
Lunch

1.30pm
Reducing fertiliser's carbon footprint to benefit crops and the environment
Mark Tucker, Business Development Manager & Head of Agronomy, Yara UK

2.05pm
Reaping the rewards of climate change for the UK fruit sector
Ross Newham, Operations Director, NIAB/ East Malling Research

2.40pm – 3.00pm
Discussion

3.00pm
Tea & Coffee
The Farmers Club and BCPC are planning a live seminar, held in the Farmers Suite of the Club. Price £40 per person. Dress for gentlemen is lounge suit. Numbers will be restricted in line with social distancing guidelines. Registration is first come, first served. To book your place contact Club Administrator Anita Kaur on 020 7930 3751 e-mail: administrator
@thefarmersclub.com
Please be advised that photographs may be taken on the day for Club purposes, if you prefer not be included please let the Club Administrator know before the event.
U30s EVENTS
Under 30s Chairman, Eleanor Kay has informed me that they have space on their online cocktail making event and thought main club members might be interested in joining in.
Online Cocktail Making Master Class- Hosted by the U30s
On August 7th the U30s are hosting an online cocktail class open for all Farmers Club members. Under the expert guidance of our mixologist you can learn how to make a professional Espresso Martini, mix a perfect Gin Sour, and create a fresh contemporary Hugo cocktail. Tickets will be £12, for that you will receive a free 20cl bottle of St Maur premium elderflower liqueur worth £16.75 delivered to your home, a bottle of sugar syrup, ingredients list and recipes. Book your ticket
HERE
and the password for entry to book is
JULYCocktails2020U30s Summer & Autumn Dining Series
Inspired by the Farmers Club Summer Series the Under 30s will be holding a series of smaller dinners with speakers between August and October. The invites will be emailed out shortly and more detail can be found on the Facebook page (
https://www.facebook.com/groups/farmersclubu30s
)
TRAVELLING TO THE CLUB
Following notification of what events the Club is offering, and the need for members who can, to visit the Club, I have had a number of requests for some information relating to those members who may wish to travel to London by their own car rather than by public transport. The most obvious requirement for those considering this is the need to park your vehicle. I can advise, that most members who drive to the Club use the Q-Park Trafalgar Square facility (SW1A 2TS) which is minutes from the Club, as can be seen below. A further advantage is that we have negotiated a 20% discount with them which Reception can assist you with. Members should also be aware that a congestion Charge applies to all those entering a zone of central London, with some exceptions.
Details of this and the Ultra Low Emission Zone charges can be found on
tfl.gov.uk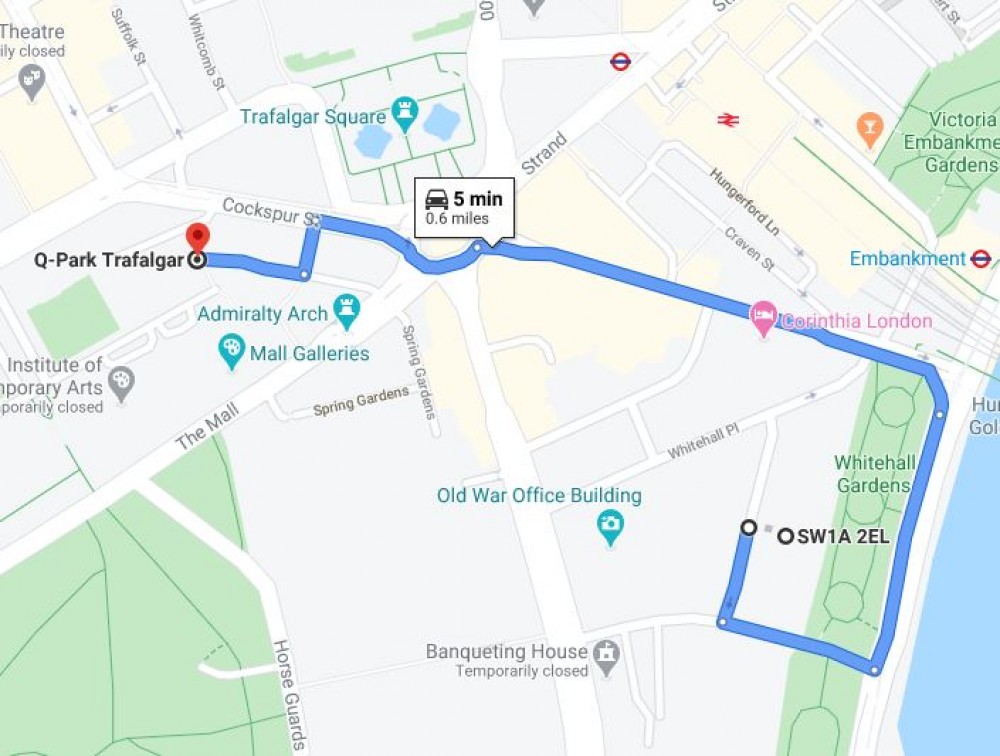 OLD WAR OFFICE
I mentioned in a previous newsletter that it was the contractors intention was to apply for longer working hours on site, helping to speed up the delivery of the Old War Office project. The controlled working methods imposed by the coronavirus restrictions meant productivity had been reducing, affecting the project programme. Westminster City Council has notified the OWO team that permission has been granted for a two-week trial period of extended hours between 18:00 and 06:00. The following conditions would apply:
All work undertaken will be internal to the building to ensure minimum impact on neighbours;
No deliveries will take place outside normal working hours;
Vibration and nose monitoring equipment will be installed; and
There will be 24 hour availability from the on-site team, ready to address any concerns that
Neighbouring properties may have.
Work is now continuing at pace and several other planning applications have been submitted:
Hoardings (Whitehall Only)
External Lighting
With a number of others to be submitted in the future:
S73 Rooftop Bar Re-arrangement
Stand Alone Application for a Pavilion and Water Feature within the main courtyard
Non-Material Amendments (NM6)
Looking forward…………
Andrei Spence